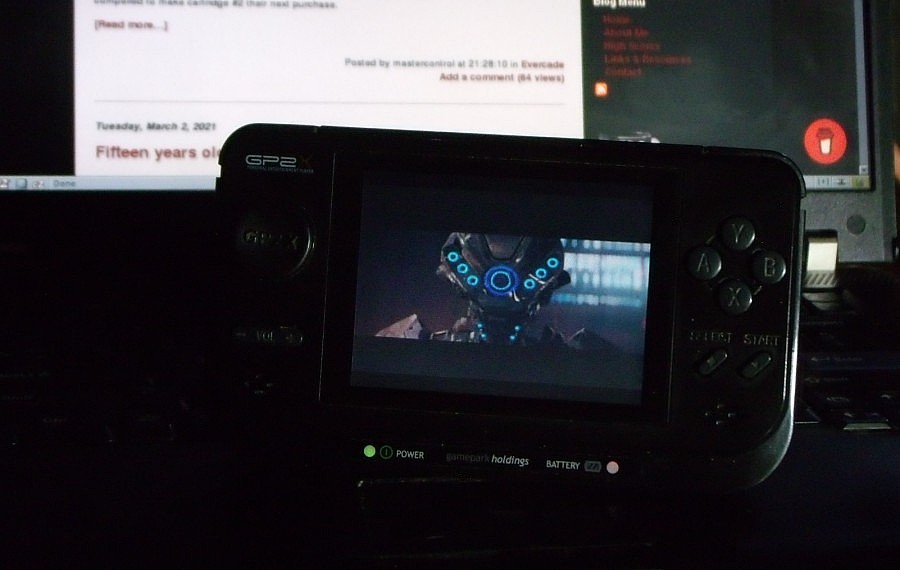 The GP2X is an excellent handheld gaming console, but it's also a very versatile media player.  I find it very handy at having my movie collection mobile on such a compact player.
For a while now, I'v been working on a project to back up my collection of movies in MP4 format onto DVDs. I've also decided to encode each of those movies into AVI files, specifically formatted for viewing on my GP2X.
It's a pretty simple process to perform, as I use MEncoder on my Linux PC with the help of a little bash script called "reencode", written by Benjamin Peter. What reencode does is apply some predetermined settings to transform video files down to something compatible for hand held devices, like the GP2X.
One of my two hour, 2GB movie MP4s ultimately gets re-encoded to a 250MB 320×214 AVI file, which is compatible with the video player on the GP2X. This make my movie collection very portable and easily accessible. I can also fit as many as 16 or so movies on one 4GB DVD-R, which is very convenient and cost effective (at least for me).
Although movies at this lower resolution don't look the best on a full sized computer screen, they're not entirely unwatchable. Most importantly, they look really good on the GP2X's screen and aren't too bad when played on a T.V. via the output cable. I'd say, on a T.V. the playback looks similar to a VCD video or home recorded VHS tape (if you remember those).
I guess this is all just to say how much I enjoy my GP2X hand-held console. It's so much more than just a gaming system. It's really a multi media entertainment system with no DRM shackles to constrain your abilities. They just don't seem to make devices like this anymore. It's all run by multi-billion dollar corporations now-a-days, who's only concerned with making money and to hell with innovation or the concept of open source.
Here is a short demo of a movie encoded for the GP2X, converted from AVI into MP4 (for streaming purposes):
---