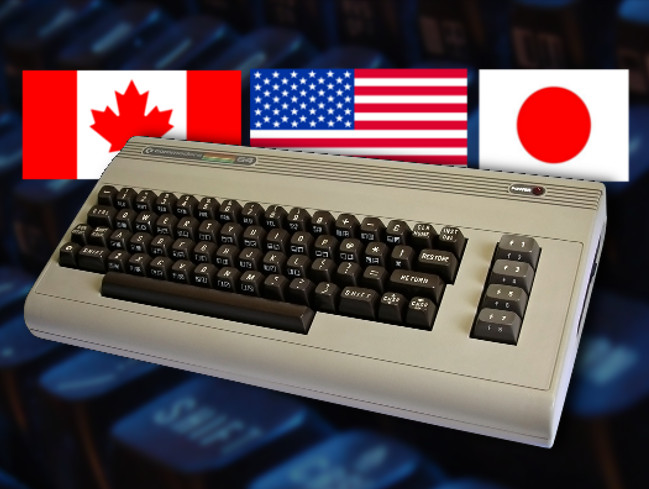 I've went through my collection of Commodore 64 games and have compiled this collection of games specifically made for NTSC systems.
This is a zipped archive file containing disk images of about 237 classic (and a few modern) games specifically for NTSC Commodore C64/128 and TheC64Mini. I went through my collection of D64 disk images and grouped together all of the games that ran properly on my NTSC Commodore 64. Although there are many PAL-centric games that have been "fixed" to run on NTSC C64s, many of them either run fast or produce distracting visual artifacts or glitches. And, even though NTSC TheC64Minis can play PAL games, they do so at the faster speed.
C64 NTSC Games Collection.zip – (12.4MB)
These games, which I have included in this archive file, run at the proper speed on NTSC C64s, 128s and C64Minis (at least from what I can tell). So, you will experience these games the way the programmer intended.
In no way are these the only games you can find for NTSC systems, they're just what I currently have in my collection. I'm working on adding more games to the archive (along with appropriate .cjm files for the C64Mini). So check back every so often for updates.
The following is the list of games included in the zip file.
(bolding indicates the latest game additions)
| Game | CJM File Incl. | V-1541 Friendly |
| --- | --- | --- |
| 1943 The Battle of Midway | ✔ | ✘ |
| 20 Tons | | ✔ |
| 3D Pinball | ✔ | ✔ |
| 3d-pool | | ✔ |
| 4th & Inches | | ✘ |
| 5 PIN BOWLING | | ✔ |
| Ad Infinitum | | ✔ |
| Addams Family | ✔ | ✘ |
| Aknakereso | | ✔ |
| Alien Killer | | ✔ |
| aliens the video game | ✔ | ✘ |
| Alien syndrome | | ✘ |
| Alley Oops | | ✔ |
| Altered Beast | | ✘ |
| alternate reality – the city | | ✘ |
| alternate reality – the-docs | | ✘ |
| Amazing Spider-Man | | ✘ |
| Amazon Tales | | ✔ |
| Apache Strike | ✔ | ✘ |
| APSHAI Trilogy | | ✘ |
| arachnia | | ✔ |
| arcade 131 | | ✘ |
| Arcade Classics | | ✔ |
| arcade Collection 01 | | ✘ |
| Archon | ✔ | ✘ |
| asylum | | ✘ |
| A.T.C (Air Traffic Controller) | | ✔ |
| auriga | | ✔ |
| awakening | | ✔ |
| Axe of Rage | | ✘ |
| Axis Assassin | | ✘ |
| Aztec Challenge | | ✘ |
| Bad Blood | | ✘ |
| Bagitman | | ✔ |
| ballblazer | | ✔ |
| barbarian2 | | ✘ |
| Barbarian | | ✘ |
| Bat Attack | | ✔ |
| Batman The Movie | ✔ | ✘ |
| Batman The Caped Crusader | | ✘ |
| Battle Chess | | ✘ |
| Battle zone | | ✔ |
| Batty | | ✔ |
| BC's Quest For Tires | | ✔ |
| beamrider | ✔ | ✔ |
| Below the Root | | ✘ |
| Beyond Dark Castle | | ✘ |
| big mac | | ✔ |
| Big Top Barney | | ✔ |
| bionic commando | | ✘ |
| Black Magic | | ✘ |
| blades of steel | | ✘ |
| Blasteroids | | ✔ |
| Blue Angels | | ✘ |
| Blue Max 2001 | | ✘ |
| Blue Moon | | ✔ |
| Blue-Print | ✔ | ✔ |
| Bonkey Kong | | ✔ |
| BOP N WRESTLE | ✔ | ✘ |
| Bouncing Kamumgas! | ✔ | ✘ |
| Bounty Bob Strikes Back | | ✘ |
| Brain Wave | | ✘ |
| bruce lee | ✔ | ✔ |
| Bubble Ghost | | ✘ |
| Buck Rogers | | ✔ |
| buggy boy | | ✔ |
| Burger Time – Bit Bears | | ✘ |
| Burnin Rubber | | ✔ |
| C64anabalt | | ✔ |
| Captain Blood | | ✘ |
| Captured | | ✘ |
| Castles of Doctor Creep | ✔ | ✘ |
| Castlevania | | ✘ |
| Catastrophes | | ✔ |
| Cave Raid | | ✔ |
| Centipede | | ✔ |
| chiller | | ✔ |
| chuckie egg | | ✘ |
| classic collection | | ✘ |
| Commando Arcade SE | | ✘ |
| Congo Bongo SE | | ✘ |
| Creatures 2 | | ✘ |
| Cross Horde | | ✘ |
| crossfire | ✔ | ✔ |
| Crossroads 2 | | ✔ |
| crystal castles | ✔ | ✔ |
| Cybermen-CCS | | ✔ |
| Dam Busters | | ✘ |
| dan dare | | ✔ |
| Dark Castle | | ✘ |
| Dark Caves | | ✘ |
| darkness | | ✔ |
| Davids Midnight Magic | ✔ | ✔ |
| Defender of the crown | | ✘ |
| Deja Vu | | ✘ |
| demon attack | ✔ | ✘ |
| Detective Game, The | | ✘ |
| Devon Aire in the Hidden Diamond Caper | ✔ | ✘ |
| digiloi | | ✔ |
| Dino Eggs | | ✔ |
| Dizzy: Prince of the Yolkfolk | | ✔ |
| DOG | | ✔ |
| Donkey Kong-jr | | ✔ |
| Dragon Hawk | ✔ | ✔ |
| Dragonskulle | | ✘ |
| Drelbs | | ✔ |
| Drol | | ✘ |
| drop zone | | ✔ |
| DRUID | ✔ | ✔ |
| Dr. Who | | ✘ |
| dungeon of namos | | ✘ |
| dustin | | ✔ |
| Eagle Empire | | ✘ |
| Egg Man | ✔ | ✔ |
| Empire Strikes Back, the | | ✘ |
| Entombed | | ✘ |
| Epyx comp | | ✔ |
| Escape From the Planet of the Robot Monsters | | ✘ |
| EVIL DEAD | | ✔ |
| Family Feud | | ✘ |
| FERNANDZ | | ✘ |
| Fire Trap | ✔ | ✔ |
| FRAK | | ✘ |
| Frantic Freddie | | ✔ |
| Frantic Freddie II | | ✘ |
| Friday the 13th | | ✘ |
| Frogger | ✔ | ✔ |
| Gauntlet | ✔ | ✘ |
| Get Off My Garden | | ✘ |
| ghostbusters | ✔ | ✘ |
| Ghosts'n Goblins | ✔ | ✘ |
| Giana Sisters | | ✔ |
| glory quest | | ✘ |
| Goblin | | ✔ |
| GOLDEN AXE | | ✘ |
| Gorf | | ✔ |
| grand-prix-circuit | | ✘ |
| gunship | | ✘ |
| Gyruss | ✔ | ✔ |
| hacker | ✔ | ✔ |
| hawk patrol | | ✔ |
| Heavenbound | | ✔ |
| Hi Ska Do | | ✘ |
| Hover bover | | ✔ |
| hunchback | ✔ | ✔ |
| Hunter | | ✔ |
| Impossible Mission | | ✔ |
| INDIANA JONES AND THE LAST CRUSADE | | ✘ |
| jack attack | ✔ | ✘ |
| Jet Bike Simulator | ✔ | ✘ |
| jet combat simulator | | ✘ |
| Jumpman | | ✘ |
| Killer Ring | | ✘ |
| Karateka | ✔ | ✘ |
| klondike solitaire | | ✘ |
| Kung-Fu Master | | ✘ |
| Lady Tut | | ✔ |
| Last Ninja 2, The | | ✘ |
| Latent Fusion | | ✘ |
| Law Of The West | | ✘ |
| Lazer Zone | | ✔ |
| Leaderboard Executive | | ✘ |
| Lethal Weapon | | ✘ |
| Lions Of The Universe | | ✘ |
| little comp people | | ✘ |
| Lunar attack | | ✔ |
| MADNESS | | ✔ |
| Magic Carpet | | ✔ |
| maze of death | | ✔ |
| Millenium Assault | | ✔ |
| Mini Putt [Eagle Soft Inc.] | | ✘ |
| monopoly deluxe | | ✔ |
| moon cresta | | ✔ |
| Mr. Do! | | ✔ |
| ms pacman | ✔ | ✔ |
| Neutral Zone | | ✔ |
| Night Mission Pinball | ✔ | ✘ |
| NO MERCY | | ✘ |
| not the giana sisters | | ✘ |
| One on One | ✔ | ✘ |
| Out On A Limb | | ✘ |
| Outrun US | ✔ | ✘ |
| Pegasis | ✔ | ✔ |
| Platforms | | ✔ |
| Pogo Joe | | ✘ |
| Pole Position | ✔ | ✔ |
| pool billiard | | ✔ |
| Popeye | ✔ | ✘ |
| Portal | ✔ | ✔ |
| power drift | | ✘ |
| Project Space Station | ✔ | ✘ |
| Pulsoid | | ✔ |
| quadrilation | | ✘ |
| Radar Rat Race | ✔ | ✔ |
| raid on bungeling bay | | ✘ |
| raid over moscow | ✔ | ✘ |
| Rescue on Fractalus | ✔ | ✘ |
| rescue squad | | ✘ |
| Revenge of Defender | ✔ | ✘ |
| River Raid | ✔ | ✘ |
| Robocop | ✔ | ✘ |
| Rogue | | ✔ |
| Salamander | | ✘ |
| SKRAMBLE | | ✔ |
| Slam Dunk | | ✘ |
| solar fox | ✔ | ✔ |
| Space Panic | | ✔ |
| space taxi | | ✘ |
| speed bug | | ✘ |
| speed king | | ✘ |
| Spider Maze | | ✔ |
| Spy Hunter | ✔ | ✔ |
| Spy vs Spy | | ✘ |
| Spy's Demise | ✔ | ✘ |
| squirm | ✔ | ✔ |
| Star Force | | ✘ |
| star fortress | | ✔ |
| Star Ranger | | ✔ |
| Star Trek Universe | | ✘ |
| Star Wars (3D) | | ✔ |
| stealth | | ✘ |
| Stellar 7 | ✔ | ✘ |
| Stone Age | | ✘ |
| Street Surfer | | ✔ |
| Summer Games | | ✘ |
| Super Cycle | | ✘ |
| Super PacMan | ✔ | ✔ |
| Sword of Fargoal | | ✔ |
| tazz | | ✔ |
| test drive | ✔ | ✘ |
| TIMES OF LORE | ✔ | ✘ |
| Tombs of Doom | | ✘ |
| trogue 64 | ✔ | ✔ |
| Turbo the Tortoise | ✔ | ✘ |
| Turmoil | | ✘ |
| turrican usa | | ✘ |
| Vice Squad | | ✔ |
| wizard of wor | | ✘ |
| x-out | | ✘ |
| Yie Ar Kung-Fu | | ✔ |
| Zoom | | ✘ |