A while back I shared some of my favourite tips for the TDE file manager, Konqeuror. One of the features that I didn't bring up, mostly for the reason that this feature is more meaningful to website managers, is it's native ability to work with several Internet protocols.
Of the protocols that it can work with, like HTTP, FTP, and SFTP, I think the one I found the most useful was FISH. FISH is a unique feature of Konqueror; it's fundamentally SSH with some special integration into the Trinity (what used to be KDE) desktop environment.
FISH works with Internet file servers that support SSH, which is similar to Secure FTP (for transferring files), but with enhanced security. To use FISH, in Konqueror's address bar, you enter the URL to the server you wish to connect to, including your user I.D., like this:
fish://[email protected]:port #
Konqueror recognises the FISH protocol and then attempts to connect to the server at the address you've specified. If the server supports SSH, you will then be prompted by Konqueror to enter your account password for the server. If all is entered correctly, you will then see a file directory of the contents of your server account.
In the image below, here you can see the contents of my web server in the left hand panel, and on the right is my personal files stored on my computer's hard drive.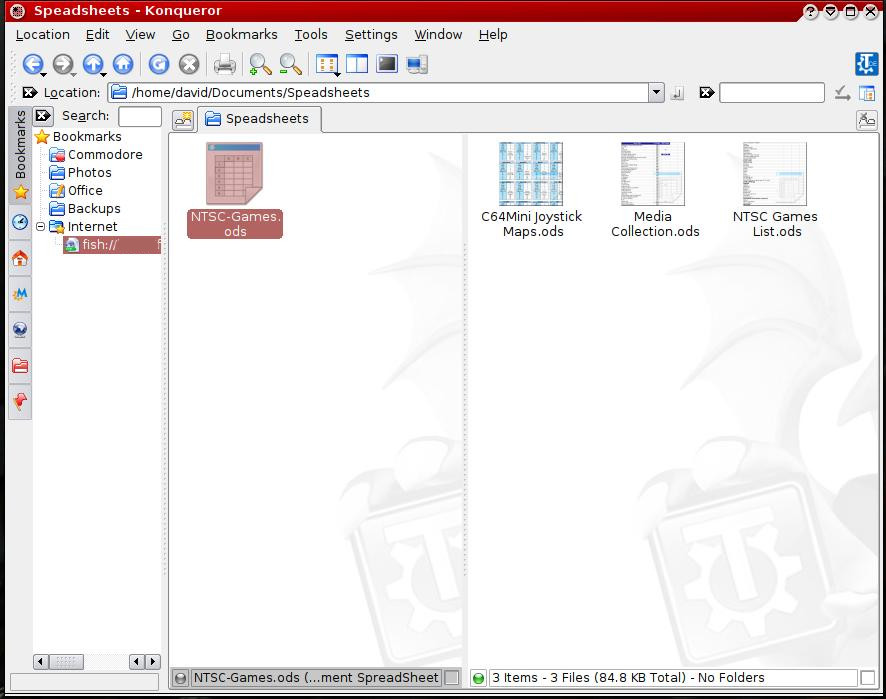 Now, this is the magic and the power of FISH, from here on out, Konqueror treats the connected web server directory as if it were a partition on your computer's hard drive. What this means is, you easily drag and drop files on the fly between your computer and the server. Not only this, but you can also seamlessly use the server's storage space with your integrated TDE applications, like KOffice, KEdit, and DigiKam.
For example, if I wanted to work on the KWord document that you see in the example above, all I would need to do is double-click on the file icon and Konqueror would open the file with KWord. If I wanted to open a file from within KWord itself, all I would need to do is type in the FISH URL in the document name field, like this: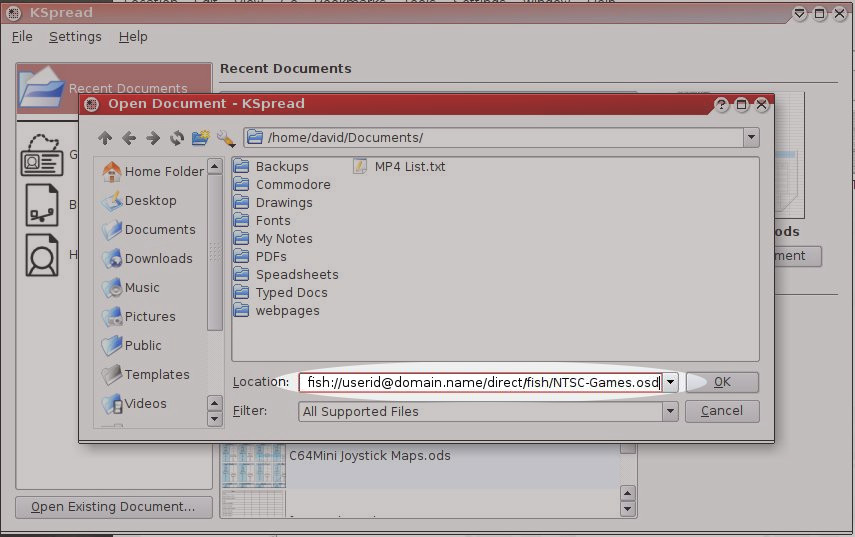 When I click the OK button, KSpread would then attempt to access the server location and then ask me for my account password. If all is entered correctly, it would then download the document from the server into memory.
Once I was done with making changes to the document, all I would have to do is "Save" the document and KSpread would then upload the new file to the server. This saves me from having to go through the cumbersome task I would normally do, with starting up my FTP application, log in, navigate to where the document is stored, and then upload the file to the server.
Several years ago I used to do consulting work, which included some project planning, electronic file archiving and organization, which also included providing on-line storage services on my own private web server. Because my work required me to travel between different offices, I didn't want to keep confidential documents on my laptop, just in case something happened to it as I travelled. So, Konqueror and FISH was a critical part of the way I did business, because all of my confidential files were always safely saved and accessed from my private remote server.
Because the FISH protocol is so fantastically integrated into the Trinity desktop environment, using it is virtually seamless, yet still one of the most secure ways of transmitting data over the Internet.
Today, I don't use FISH too often, simply because I no longer have the unlimited bandwidth, which I had during my consulting days. But, I do use it to do regular backups of my blog data or to upload certain files to my web server, when required.
Even if you don't use FISH to remotely save and access your regular office files, it still makes Konqueror a very powerful and versatile FTP application for your desktop. Once again, it's the seamless integration of FISH and how easily Konqueror works with it that makes it so appealing to me. Konqueror treats it like a regular storage resource on your computer. So, copying files between your computer and web server is as easy as dragging and dropping file icons between two windows panels in Konqueror, as this image shows: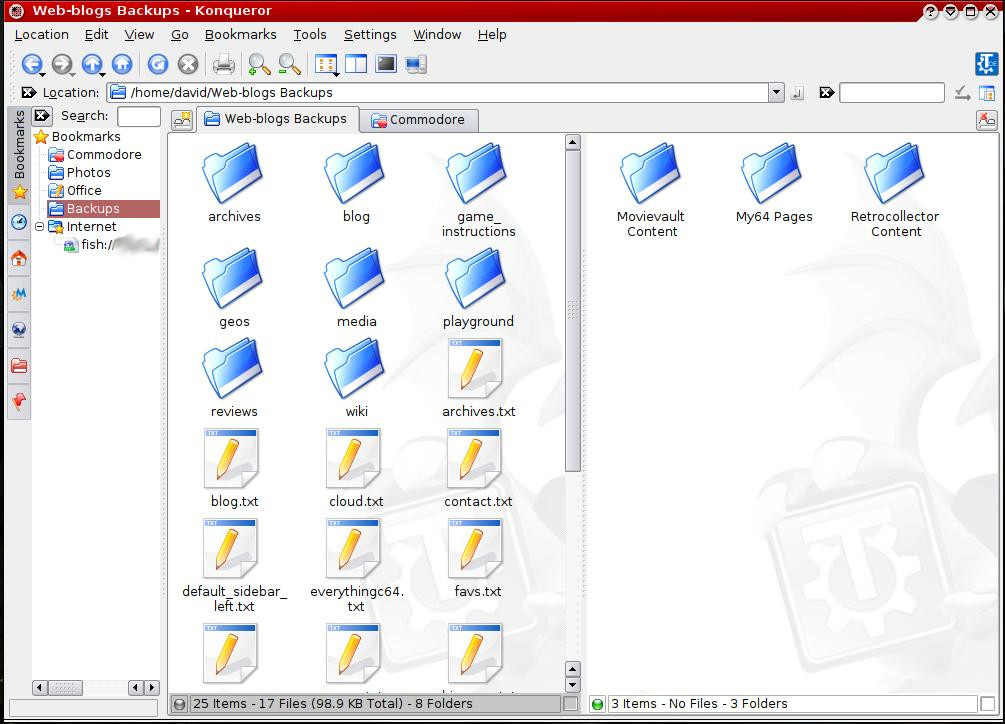 Backing up my multiple blogging platforms couldn't get any easier for me. Making use of Konqueror's bookmarks, multiple tabs, or profile manager makes the entire process a breeze that really can't be rivalled by any other file transfer application that's out there.
Having Konqueror and the FISH protocol still at my disposal is one of the many reasons why I enjoy using Trinity as my desktop environment. The power and functionality that TDE offers is unrivaled by any of today's "modern" desktops, in my opinion. If anything, the more modern desktop environments have substantially "dummed down" the interface between user and computer and they just get in the way. But that's just my opinion.
---