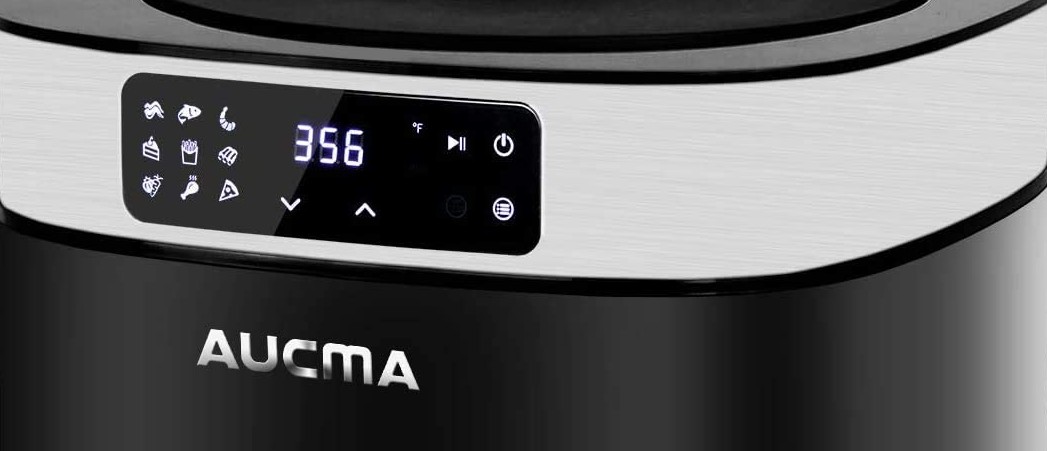 We've made a recent change in our lifestyle and what we're eating. To support some of these changes, we decided to buy an air fryer. After a lot of research and comparative shopping, we went with the Aucma brand.

The specifics:
The model we bought was the Aucma 5.5L (5.8 QT) #AF5502-DI, with a 7″x7″ square non-stick basket, digital control panel with 9 cooking presets, overheating prevention system, and auto shutoff mechanism. The housing of the air fryer is a combination of heavy plastic and aluminium, with a metal frying basket in a non-stick coating. The basket can easily be removed from the drip tray/drawer with a press of a button.  During operation, the maximum power consumption is 1,500 Watts.
Along with the nine cooking presets, you can control both the temperature and cooking time.  The fryer can cook with a temperature ranging from 104°F to 392 °F and for a duration from one to sixty minutes (in one minute increments).  It also has a pre-heat feature, in which the air fryer will not start the timer until the cooking temperature reaches the desired level.
While cooking, if you wish to check on how your meal is progressing, you can simply pull the basket out of the unit.  The fryer will automatically pause operation until you replace the basket.  When you put the basket back into the unit, the fryer continues cooking where it left off.
When the timer reaches zero, the fryer sounds an alert, then enters a "cool down" mode; the fryer then automatically shuts down.
Why I chose Aucma over others:
From all the research I did about which air fryer was best for us, Aucma seemed to me to be the best balance between features and price point.  We wanted something that was large enough to make the sort of meals we were interested in, yet required the least amount of power to do so to be compatible with our off-grid power limitations.  At first, the oven style air fryers interested me the most.  But, many comments made by their owners seem to find them a bit of a hassle to clean.  So, the basket style air fryers started to look like a better choice for us.
We also needed something that would fit into our current budget restrictions.  At this time, a $200 plus air fryer just wasn't affordable for us right now.  When we saw what Aucma had to offer at the price point of only $119 Canadian (on Amazon.ca) I couldn't pass it up.  Although the Aucma brand didn't have very many customer reviews for their air fryers, they did seem to have a good reputation with their other kitchen appliances.  And, the reviews I was able to find for their air fryers were mostly positive.  I would also soon discover that Aucma was a company that was very interested in communicating with their customers.  But, I'll touch a bit more on this subject a little later.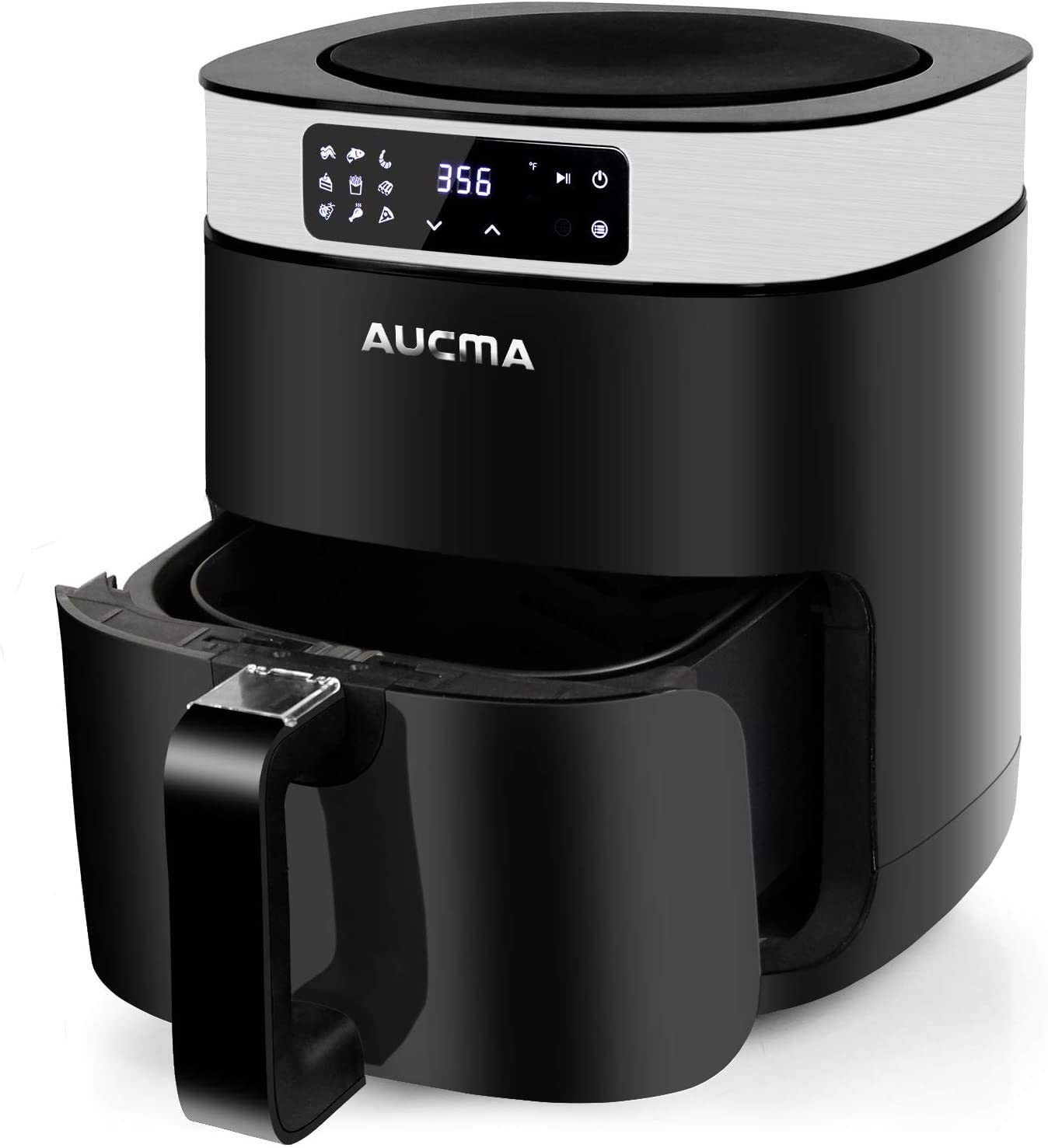 Results:
After making several meals with the Aucma air fryer, my wife and I agree that we made a good investment with our purchase.  We found the air fryer to be very easy to operate, with a well defined control panel.  The fryer basket was also easy to take in and out of the unit, as well as clean after the cooking was done.
The time it took the fryer to do it's pre-heating was very short, taking less than three minutes to reach a temperature of 350°F.  So, for those recipes that tell you to pre-heat your air fryer, we've found that you can pretty much skip that step when using the Aucma fryer.  This can save you from a potential accident of burning yourself, trying to place food in the hot air fryer.
The first dish we cooked in the air fryer was a Keto-friendly pizza.  The recipe called for a cooking time of 12 to 14 minutes in an air fryer.  The Aucma, once pre-heated, only took 9 minutes to cook.  Our second dish was a re-heating of a frozen chicken thighs and mushroom dish we made the week before.  Typically, we would have put this in our gas oven for about 50 minutes to thaw and warm up.  In the air fryer, it only took 18 minutes to do the same job.  And lastly, we decide to try some pork chops; which came out lovely.  The outside was seared nicely, while the inside stayed juicy.  Up until now, my favourite way to cook pork chops was on the barbeque, but now I think it's my second favourite.
While cooking, the fryer did not cause the surrounding counter area to get overly hot.  Most of the heat seemed to be effectively vented through the vent on the back of the unit, near the top of the housing.  But, it should be noted that you will want to ensure adequate space between the vent and any other surface or object.  So, I don't recommend operating the air fryer while it's up against a wall or under a cupboard or shelf.
The fan that creates the 360° rapid air movement inside the fryer seems to be very effective, drawing good airflow from the top of the unit.  So, it's also another good reason not to operate the fryer from an enclose space, like under a cupboard or shelf.  I have to say that I didn't find the fan all that noisy, either.  I'd say it was close to the same noise a hair dryer set to low would generate.  Our Nesco food dehydrator is much noisier than the air fryer.
My only criticism of the Aucma air fryer would have to be with the non-stick fryer basket.  I would much prefer if the unit made use of either a stainless steel or ceramic basket, as I know that over time, the non-stick coating will eventually flake and peel off.
But, I did send an email to Aucma, asking if they would consider offering a stainless steel "upgrade" to their customers in the future.  Surprisingly, they got back to me in just a couple of days, thanking me for my suggestion and indicating that a future upgrade to the basket is not out of the question.  So, we'll see what the future brings.  In the meantime, however, I'm very impressed with how easy it was for me to contact Aucman directly, as well as how quick they got back to me.
Conclusion:
We are very please with our purchase.  The Aucma air fryer performed well above expectation, seemed to be well made with quality parts.  Nothing about this fryer seemed to be flimsy or cheap.  The housing didn't get overly hot during operation nor give any sort of feeling that it was hazardous to use.  I think we received good value for our money and look forward to making it a staple in our way of cooking.
My only concern is with the non-stick fryer basket, but it sounds like Aucma is open to the idea of offering their customers a safer and more durable alternative in the future.
So, if you're in the market for an air fryer, I highly recommend you take a look at Aucma's offerings.  We bought ours on Amazon.ca from SFJ-CARTHOME.
---