If you're a creator and are looking for a way of raising funds for your passion and to connect with your audience, I can't say enough good things about the services provided by Buy Me A Coffee.  I've been signed up with them for over three years now and here are some thoughts on my experience.
Over the years I've tried a few social fundraising on-line services, like Patreon and Ko-fi.  But, in my experience, BMC (Buy Me a Coffee) offers the most features at the best prices.  On top of this, over the past four years that I've been a member, I've watched their interface grow and develop into something that is a cut above the others.
In the beginning, BMC was just a simple interface that made it easy for people to "donate" (a.k.a. tip) funds to those creators they wished to support.  But, as time went on, the BMC dev. team added features like yearly memberships, exclusive content for paying supporters, blog posts, Discord integration, and conduct purchases of electronic materials.
You can do similar tasks on Patreon or Ko-fi, but what makes BMC more attractive, at least for me, is that you don't have to pay extra for any of the services they provide.  Everything is provided for the very low cost of only a 5% free on each transaction.  There are no monthly fees or "premium" memberships digging into your profits, which the other services require.
Another attractive feature is that potential supporters do not have to have a BMC membership to show their support.  They can just use their Stripe, PayPal, Google Pay or Apple Pay account.  This also ensures that you get paid right away; no need to have to wait for BMC to process a payout.
Over the past four years, BMC has really put a lot of effort into making a really easy-to-use interface.  The layout is simple and clean, and all functions are clearly defined.  Because I use my BMC account for several of my blogs, I really like the recent addition of being able to group my postings into categories.  So, for people who are interested only in my posts regarding the Commodore 64, they can easily filter out those posts from the rest.  Same goes for my entries regarding my home video collecting or Linux computing entries.
For those people who create electronic wares, like software, e-books, music or digital artwork, BMC has made it very easy for you to sell your creations through either the "shop" or "extras" functionality.  You set the price of the item you wish to sell and, when the transaction is complete, BMC issues a URL to your customer for them to download their purchase.  All the complicated stuff is taken care of, so you don't have to bother with it.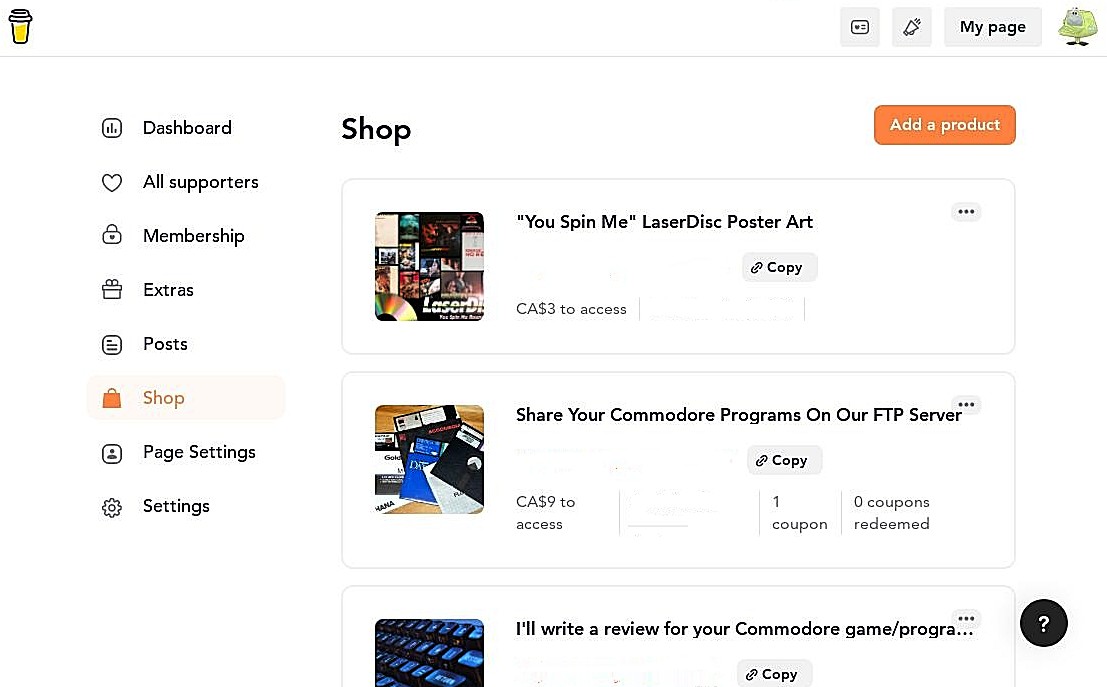 One of the earliest advancements that was made to the service was the ability for supports to make monthly donations, when BMC launched Memberships.  With Memberships, you can use BMC to provide exclusive content to your audience who support you on a monthly basis.  So, if you can market it properly, this gives you a very easy way to create a very unique and special experience for your supporters.
The other nice thing about being a BMC user is the level of support you get from the Customer Support staff.  It's dead easy to get a-hold of someone when you need a question answered, and they really try hard to make sure you're happy with the response you've been given.
You also have at your disposal the BMC Creator Community forum, as well as a new Discord server.  So, not only do you have the support of the BMC team at your disposal, but also a wealth of information from other BMC users.
I think Buy Me A Coffee is a wonderful service for those who are trying to turn a hobby that they enjoy into a source of income during these challenging times.  I encourage you to compare them to the other donation/patron type services out there and consider giving them a shot.  I think you'll be well please with what you find.
You can find them here: https://www.buymeacoffee.com
---