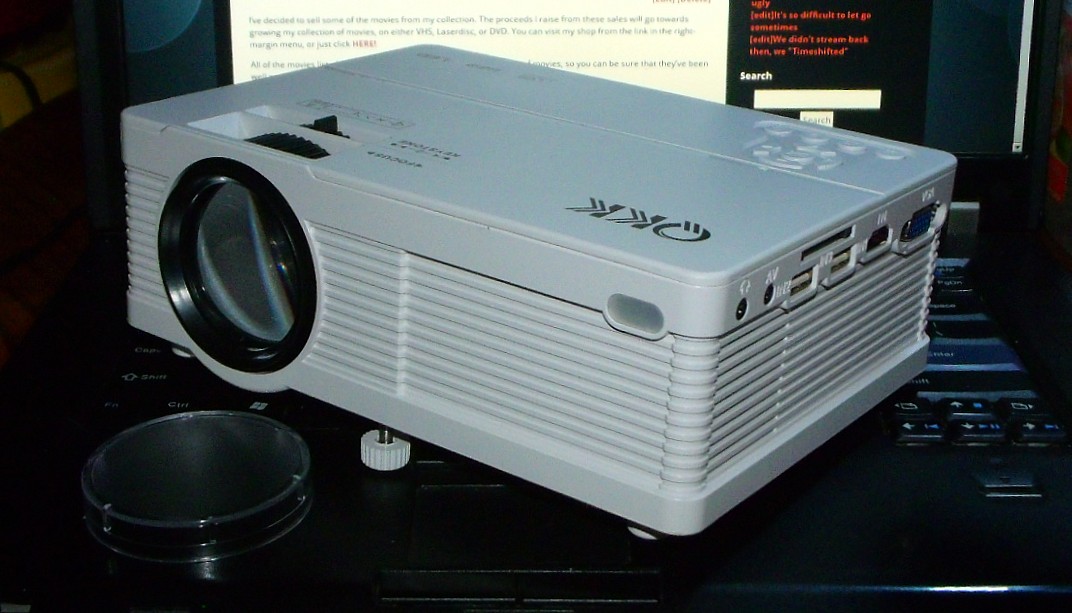 Since moving out to the homestead, my wife and I have been wanting to create our own outdoor movie theatre.  Well, we finally bought our first mini video projector, the QKK 2020 Mini Projector, and have to say that we're very happy with our purchase.
I've been keeping an eye on the home video projector market for some time, just waiting for that perfect combination of features and value-for-money.  There are so many projectors out on the market now, and at all different price points.  But, I finally settled on the QKK projector, which I found on sale at Amazon.ca.
Although I found the price of $150.00 CND to be very attractive, there were a few other features of the QKK that stood out to me.  These features included the 4500 LUX brightness, maximum 176″ projection size, 1920 x 1080 display resolution, 50,000 hour LED bulb life, small form factor, range of video inputs (HDMI, VGA, and A/V composite), the ability to play video files from USB and SD card, remote control, and only consuming  50 watts of power.
The projector also comes with its own 90″ x 50″ fine mesh fabric projector screen.  The screen measures out to have a 100″ projection size, but the projector can project up up to 176 inches.  It also has the ability to perform as both  front and rear projection screen.  I've tried it both ways and it works really good.
Along with the screen, you also get a power cord, A/V component cable, and an HDMI cable in the box.
The projector itself is compact, measuring a mere 8″ x 6.5″ x 3″ and has a nice solid feel to it.  The buttons on the control panel have a nice solid "clicky" feel to them and the lens adjustment has a smooth action to it.  The projector didn't come with a tripod, but there is an extendible post on the front, if you need to prop up the projector during playback.  There's also a tripod mount on the bottom, so you can use your own standard tripod if you have one.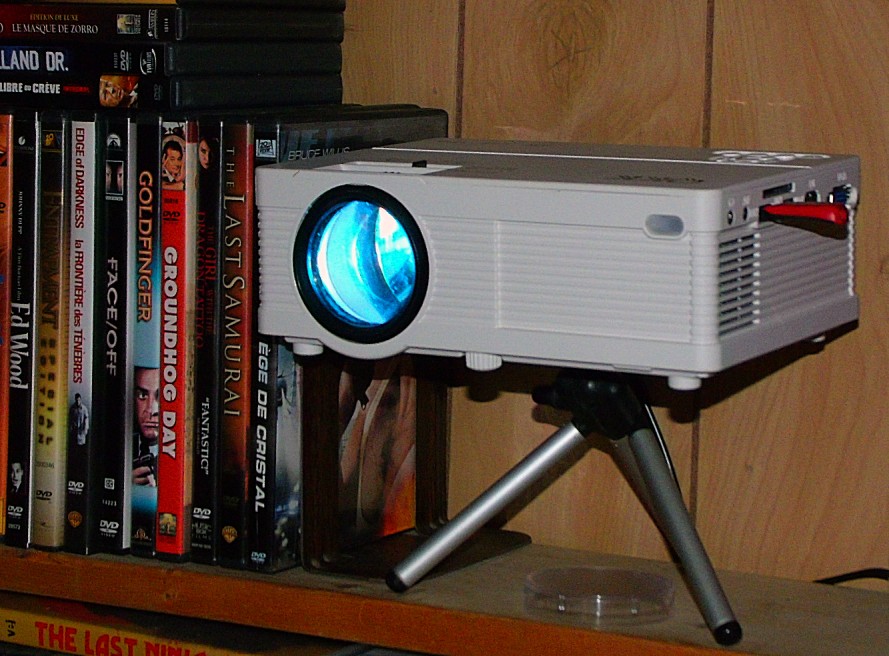 The projector's cooling fan doesn't generate a lot of noise, but seems to draw an adequate amount of air to keep the unit cool.  We've watched several hours of video so far and the projector doesn't get very hot at all.
On the left side of the projector, you'll find all of the unit's input and output ports, which include an audio out jack, A/V input jack, two USB ports, one SD card reader, an HDMI port, and VGA port.  You can play movies directly from USB storage devices and SD cards with the built in video player.  I've been able to play movies encoded to AVI and MP4 without any difficulty.  However, I have had issues with not being able to play certain MKV files.  For these, I've re-encoded them to MP4 and they've worked fine.   The player can also play MP3s as well as slideshows of PNG and JPG files.
The projector has a built-in stereo speaker and it actually sounds really good.  It's comparable to the sound coming from our 36″ Toshiba LCD T.V.  There's the ability to set some sound settings to help make video playback as good as possible.
As for video playback, this little projector does an excellent job.  Of course, it does the best job in a darkened room, but it still does a pretty good job in a "mostly" dark room.   We don't have black out curtains in our living room, but i was still able to watch a movie relatively well in the middle of the day with just our normal curtains drawn.  There's a range of video settings you can play with, in order to get the best picture as possible, like noise reduction (which I use when playing movies we've recorded with our Neuros OSD – with 480p resolution), colour temperature, and zoom.
Because our living room is quite small, I only have eight feet between the projector and the screen.  At this distance, the projector produces a picture at about 70″ wide and 40″ high – much too big for our situation.  So, I've folded the screen in half (width wise) and reduced the picture to 75%.
Outside, I built a frame out of PVC piping to hang the screen and we've enjoyed a few nights watching movies out under the stars.  I've set up the projector in both front and rear projection configurations and they both looked great.  Front projection is a little bit brighter, but it's nice having the projector out of the way with a rear projection setup.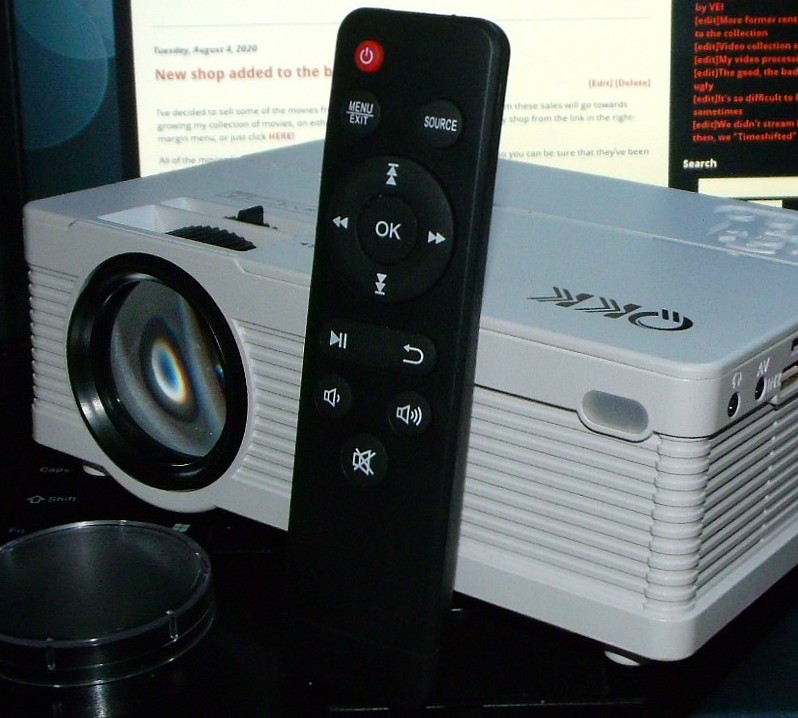 You also get a very nice remote control with the QKK Mini Projector.  Just like the buttons on the unit itself, the buttons on the remote have a nice "clicky" feel to them and are rubberized.  It also has pretty good range, as I could still control the projector when sitting outside at about 40 feet away.
As for the warranty, QKK say that they'll fully replace or refund for any manufacturing defects for up to three years after purchase.  They also mention that they will replace the unit once, if there's an issue due to user error (I'm assuming that means something like if you drop the thing and break it).  I sent QKK an email recently, just mentioning to them that we're enjoying the projector.  They replied back to me the next day, so there's obviously someone at the other end of the service department email.  Reviews on Amazon also mention that QKK are quick to reply to service related emails.
Overall, this little projector was a fantastic deal and performs better than I expected.  It has a nice range of features and is really easy to set up and use just about anywhere.  If you've been wanting an inexpensive home theater (indoor or outdoor), the QKK would be a great way to get that project started.  And if you're concerned over the amount of waste going into the landfills or the amount of resources it takes to produce modern-day electronics or your household's energy consumption, then I think this is a better choice than a 60″ plasma T.V., or something like that.
If you'd like to see a brief demo video of the projector in action, then check out this LINK.  Don't mind the sound… my digital camera doesn't have a very good microphone.
You can see all what QKK has to offer by visiting their website here: https://www.qkkonline.com
Update
Be sure to check out my follow-up post about my experience with QKK.
---