This is a follow-up to my initial review of the ExeGNU/Linux operating system I recently installed on my Lenovo laptop.
These are a couple of minor issues I've experienced since the install and how I've handled them. I'm hoping that, if you decide to give Exe a try for yourself and happen to share these experiences, this will help you easily solve them.
1 – Laptop's Touch Pad Missing Functions
The first issue I discovered after installing Exe was that my laptop's touch pad was missing a couple of functions. The first was that it did not register taps as mouse-clicks. I had to use the touch pad's buttons for clicking. Also, scrolling with the right-edge of the touch pad didn't work. I had to do scrolling using two fingers, instead.
I haven't had to deal with an issue like this in a long time; not since the early days of Linux desktop environments.
To remedy this, all I had to do was launch Konsole to get to the command line and type the commands:
synclient TapButton1=1
and
synclient VertEdgeScroll=1
In order to make these settings permanent, I created a bash script file containing these two commands, made it executable, and stored it in my ~/.trinity/Autostart folder.
2 – Cannot Mount CD-ROM
The second issue I discovered was that I could not mount or read from the CD-ROM drive. When I loaded a CD, the drive would spin up, but when Konquerer tried to display the contents, it gave the error: "Cannot mount /media/cdrom. File or Folder does not exist."
This was another issue I haven't had to deal with for a long time. Turns out that I was missing a CDROM folder within the MEDIA directory. Fixing the issue was really simple. Again, this was fixed at the command line with:
sudo mkdir /media/cdrom
Once I did that, the system could then mount the CD-ROM and Konqueror could read from it.
Everything else with the OS has been performing wonderfully. Overall, it certainly seems like the old Lenovo T61 is functioning with with a little bit more "zip" than what I'm used to.
What I really find amazing is how stable the KOffice suite is. I've been using it to create a few more documents and spreadsheets and I've had no difficulties. I can't say the same for other distros on which I tried to use KOffice in the past.
I'm very pleased with Exe so far. This distro reminds me a lot of an old Linux distribution that I really took a shine to; Underground Desktop. It was a Linux distribution, created back in 2005 and was built on ArchLinux.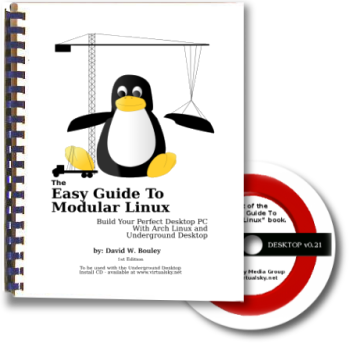 Much like Exe, Underground Desktop took the very powerful, but somewhat complicated (at the time) ArchLinux and made it easier to install and set-up. It was something that made ArchLinux very accessible to the "average" computer user.  It was also very lean, providing just enough the regular computer user would need.  Everything after that was up to the user's discretion to decide what had to be installed.
I thought Underground Desktop was so good, I wrote a 34 page how-to book for it, bundled it with the ISO burned to a bootable CD and sold it on my website for the cost of the printed book and CD. Unfortunately, the Underground Desktop project only lasted a year and a half before the developer packed it in. Such a shame. Like Exe, it also used KDE 3.5 (which has now become Trinity) as it's default desktop environment.
I sold maybe twenty books/CD bundles before it was all over. Anyone who's curious enough about it can still find my old website, and the PDF of the manual I wrote, on the pages of the Internet Archive, Wayback Machine.
Those were the days!
---