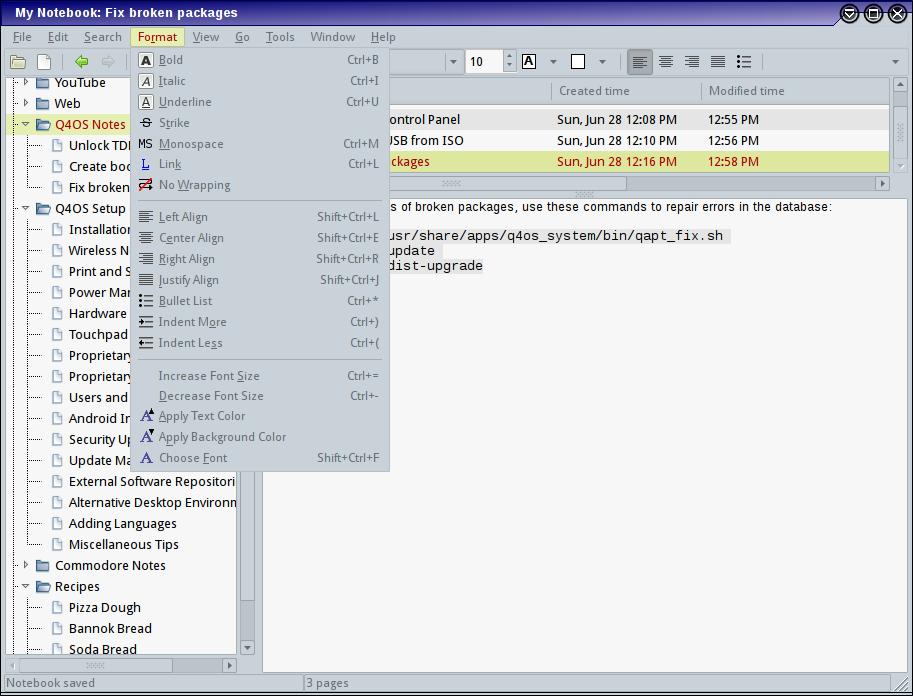 This is a review of the very versatile yet easy-to-use note taking application, called KeepNote.  Although the program has versions for MS-Windows, Mac, and Linux, I find that it is well designed for the Trinity desktop.  It uses very little system resources, is quite responsive, and provides some really useful note-taking and organization functionality.
If you happen to do a lot of research on-line, it always helps to have some easy way of taking notes on the information that you want to remember and keep handy for referencing later.  KeepNote will help you do that, but it can also do so much more.  It has an easy filing system, which helps you keep your research and notes organized, as well as a very effective indexing and search feature.
You record information in "Pages", which are basically rich text documents, and you sort these pages into "Folders".  You can organize your notes any way you wish, with as many folders, pages, nested sub-folder and child pages as you wish.  The interface is broken up into three major sections, the "Treeview" in the left side panel, the "Listview" in the top-right panel, and the "Editor" panel, which is where you record your notes.
The Editor supports some rich text formatting, like using different fonts, bold and italics text, justification, bullet lists, different font colours and background shading, and hyper links.  You can also add in-line images and links to external files.
You can easily cut and paste text from just about any source, but one of the unique features of KeepNote is that there's a "paste as quote" option that will automatically reference and link to the source document.  So, if you wish to reference some information that you found on the Q4OS help page (for example), by pasting it as a quote, KeepNote will add a hyperlink back to the original article.  I thought that was kind of cool!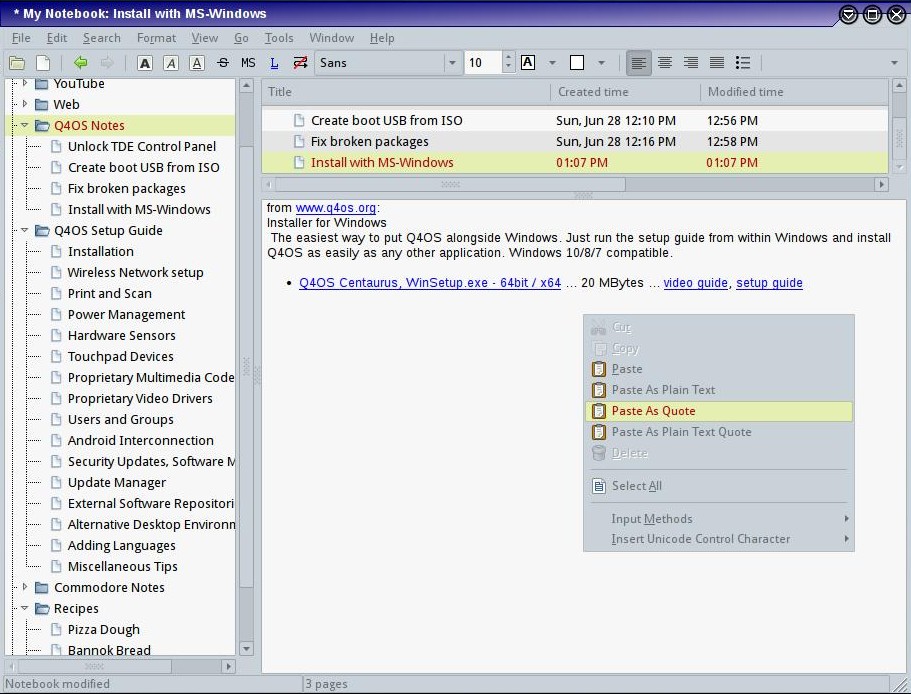 As you build your library of notes, you run the "Indexing" tool to build a very powerful word search index.  This will make it very easy for you to find particular notes when you need them.
For example, if I wanted to find a particular note I did for a BASIC program I have for my Commodore 64, I just need to put the word "basic" in the search field.  KeepNote will then display all of the pages with that word in the Listview, which I can then peruse at my leisure.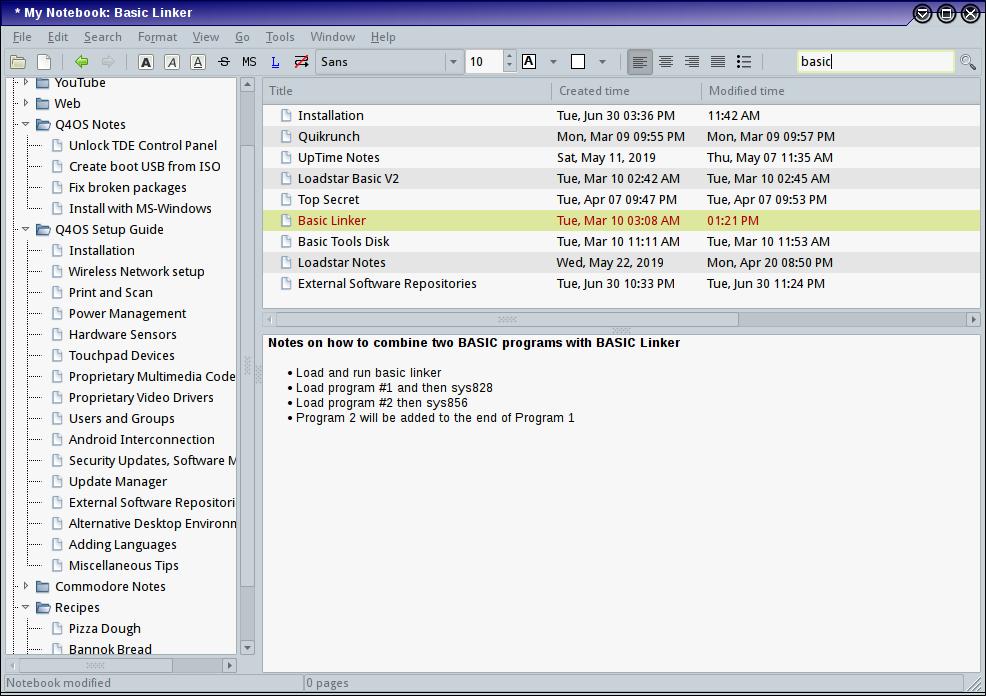 But KeepNote doesn't just work with rich-text documents, it will work with just about any file you wish to makes notes on.  For example, if you're working on a photo project and you wish to record notes about the photos you've taken, you can use KeepNote to help here.
Using the "Add Document" feature, you can make your photos into "Pages" in KeepNote, then you can add child pages to them, in which you can record what ever information you deem important or useful.  Although KeepNote will not display the photos themselves, all you need to do is double-click on the photo "page" and your computer will open the document in your native photo editor/viewer app.
You can do this with any sort of file on your computer, like word docs, spreadsheets, or what-ever.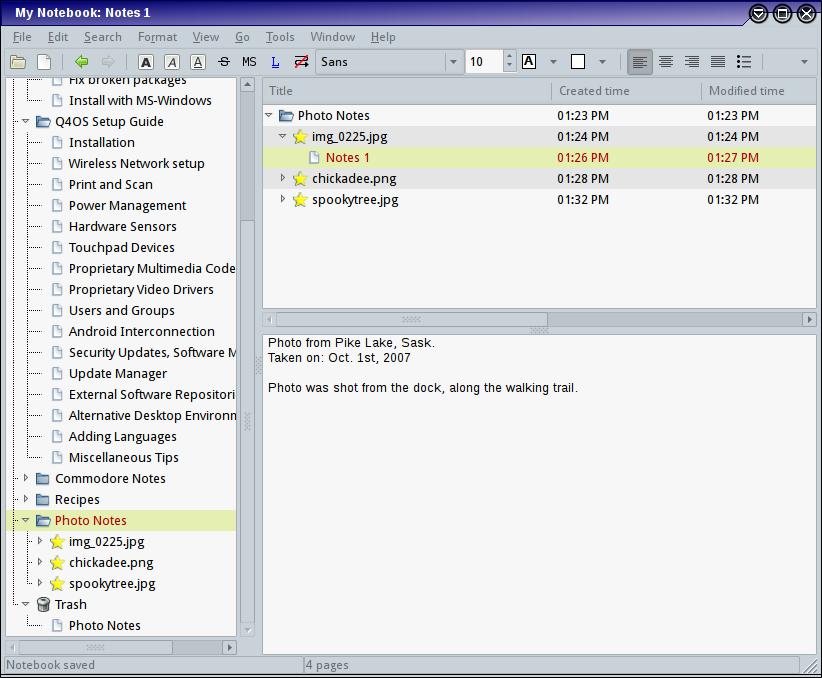 Within KeepNote's "Helper Applications" settings, you can specify the desktop apps that KeepNote uses for certain tasks, like taking screenshots and automatically adding them to a notes page, editing embedded images, or viewing webpages when clicking on hypertext links.
KeepNote also supports tabs; that is, you can create separate tabs that display different pages and then easily switch between them.  This makes it very easy for you to access your KeepNote information when you have built a particularly large notebook, with lots of folders and pages.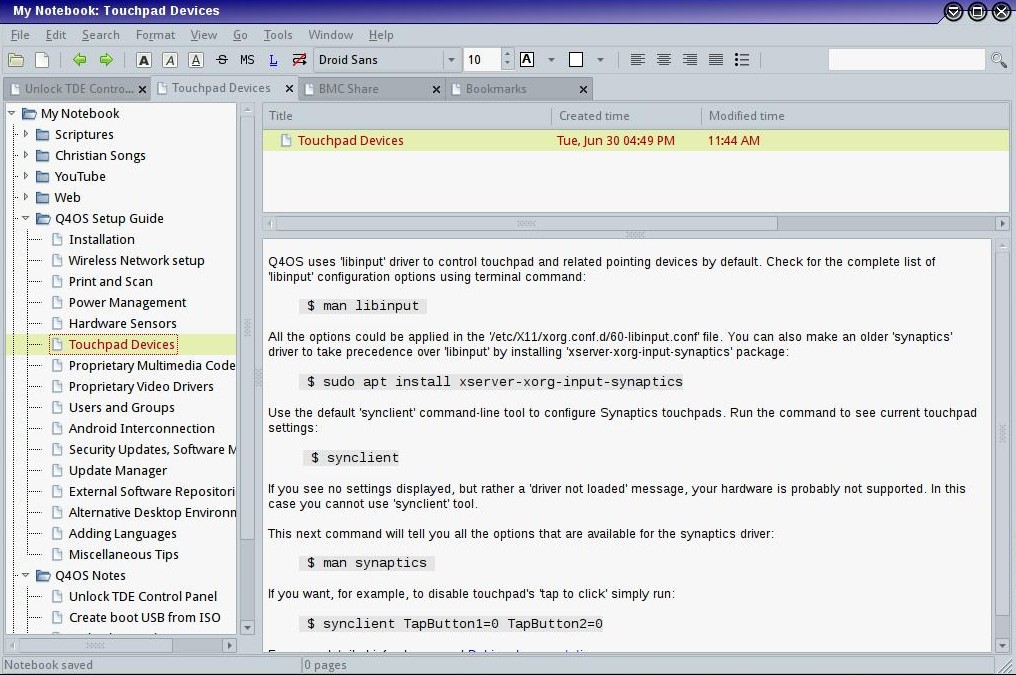 On top of all of this, KeepNote also has a very easy system for backing up your notebooks and restoring them if something were to happen.  When executed, the backup routine creates a .tar.gz file that contains the complete archive of your notes, attached photos and files, and their location in the folder/page hierarchy.
You can then take the .tar.gz file and store it on another media source, like a USB storage device, for safe keeping.
I've been using KeepNote for some time to archive the information I've gathered from the Internet and deem important to have on hand. I find it to be very easy to use and conform to my particular needs.  If you want a simple yet powerful note taking app for your desktop, I would highly recommend trying KeepNote for yourself.  Installing it under Q4OS or Exe GNU/Linux is dead-easy.  Just open up a terminal and enter:
sudo apt-get install keepnote
You can find out more information about KeepNote on its developer's website, here: http://keepnote.org/  There's a really good online user manual there, as well.
If you happen to have KeepNote installed on your system and would like to have the Q4OS User/Setup Guide, which I've copied from the Q4OS website and converted into a KeepNote notebook, you can download the tar.gz file HERE.  Unzip it and open it up in KeepNote.  I hope you find it useful!
---