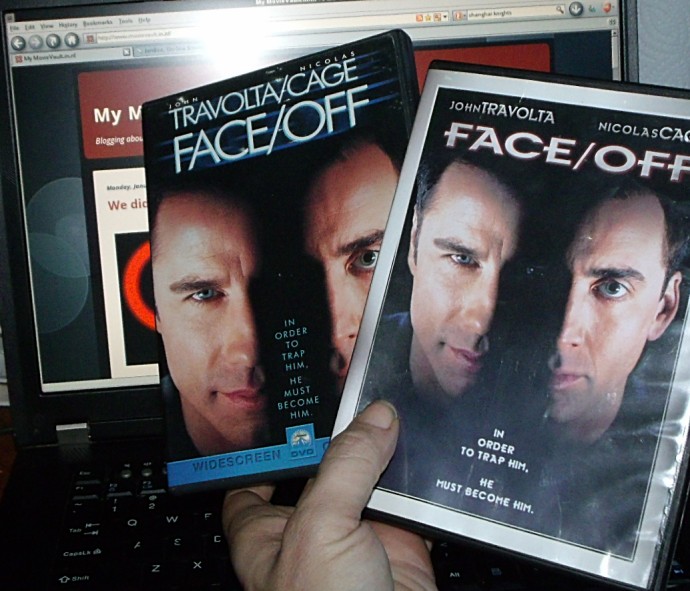 My wife and I are in the process of launching a new on-line shop, where we can sell off some of the things we've collected over the years, and to use as an outlet for my wife's line of essential oil products (which sell well at our local farmer's market). We're really looking forward to getting it up off the ground and connecting with people who enjoy the same things we do. The problem is, I'm having a difficult time parting with some of the items I've collected over the years, specifically my movies.
If you've been reading through my previous blog posts, you may have come across my post about the very substantial VHS movie collection we left behind, when we moved out here to our new home. It was tough to part with what we had collected. But, now that we've started to collect again, we're finding it more difficult to part with even the movies we have in duplicate.
How do you choose which one to give up? When does the hobby of collecting turn to hoarding? Will I ever want a copy of a movie that I've previously sold back in my collection again – much like the collection of VHS I gave up six years ago?
Oh well, I know that it has to be done. It's one of the reasons we decided to launch an on-line shop. Selling some of our duplicate movies will help us raise a little bit of extra spending money, which we can use towards getting movies we don't yet have in the collection. But it's still difficult to part with any of it; even those movies that aren't a favorite of ours. Because, you never know when you may want to watch it again… if ever!
The angst of a movie collector, I guess.
Hey, if you're interested in checking out our new shop, just follow this link over to: https://www.janbee.net. We'd be happy to see you drop on in for a visit! And, if you ever decide to support our efforts and purchase something from our collection, know that you're getting something that was cherished, appreciated, and well cared for. Also, please keep in touch, as some day, I may want to buy it back from you! ;o)