In my second entry on my blog, I shared my feelings on the importance of making physical copies of the digital photos you cherish most.  This post is similar in nature, but this time it's about the preservation of those digital movies and videos that you have stored on your PC, tablet, or "smart" media device.  I have a lot of recorded content on several large capacity hard drives.  But, it would be silly of me to rely on these devices to store the only copy of the movies I enjoy so much.  As I mentioned in my photo entry, these devices do fail and, when they do, they take along all of the content you have stored on them.
So, for the movies that really enjoy and don't have a copy of on physical media (like a DVD, LaserDisc, or VHS cassette), I put them onto a home-made DVD for posterity.  The software that I use to do this is called 2ManDVD, which I have installed on my Asus EeeBox form-factor PC, running Q4OS.  I've tried many DVD authoring tools over the years and I have to say that, although it is an older application that doesn't seem to be included in many Linux OS repositories, it's the most capable, feature rich, and reliable DVD authoring suite I've come across.  It makes it very easy for anyone to produce professional looking DVDs that you would never suspect came from a home PC.
To use 2ManDVD, you'll most likely have to find a 3rd party repository that contains the package and dependencies you will need.  In the case of Q4OS users (and Debian users in general), you can find what you need by visiting http://www.deb-multimedia.org/  Just page through the site and find the version of Debian you are running on your PC, then add the appropriate repository to your system.
Once installed, launch 2ManDVD and you will be welcomed with the initial project selection window: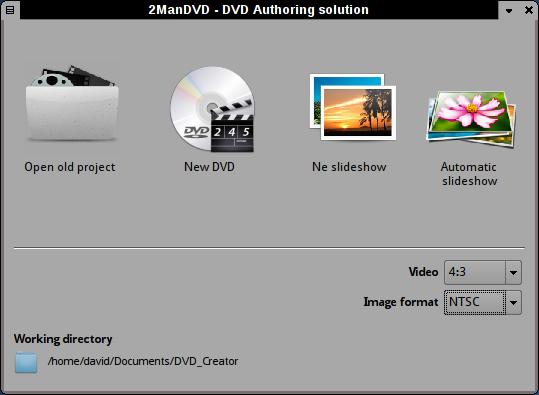 From here, you choose the video format you want to produce (PAL/NTSC), assign the working directory for the project, and then whether you wish to create a DVD for movies or a slideshow.  I won't touch on the slideshow portion of the program in this blog post, but I will say that 2ManDVD can make some really awesome slideshow videos.  If you're wanting to produce a slideshow for a function or as a gift for someone, 2ManDVD will rival anything you can find produced professionally.
After you configure these settings and click the "New DVD" icon, the 2ManDVD workspace is presented to you, where now your creativity can really go wild!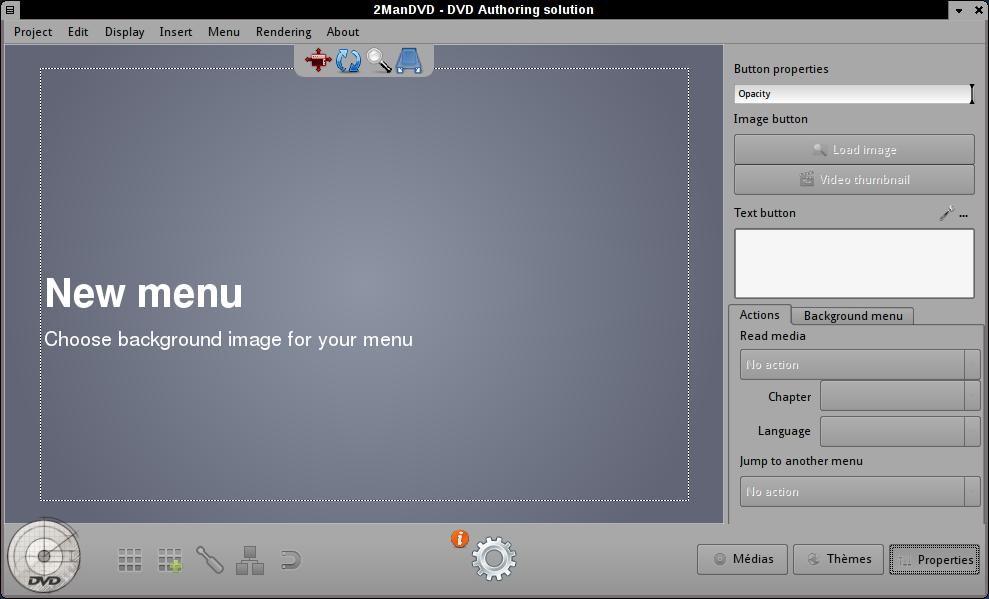 Although the interface may look intimidating at first, I have to say that 2ManDVD is quite intuitive and it doesn't take long to get your bearings.  Much of the function descriptions are in French, but they're still quite easy to understand.  You have a main work area, which is your DVD menu.  To the right of that are your control menu for all of the elements that you'll use for your DVD.  It has three basic groupings: Media, Themes, and Properties.
2ManDVD supports multi-menu DVDs, which means that you can make a navigation menu as simple or as complicated as you desire.  You can set-up "buttons", which you would control with your DVD's remote control, to either play any media files or chapters you wish, or navigate to sub-menus.  To help you manage your menu system, 2ManDVD provides a menu tree view.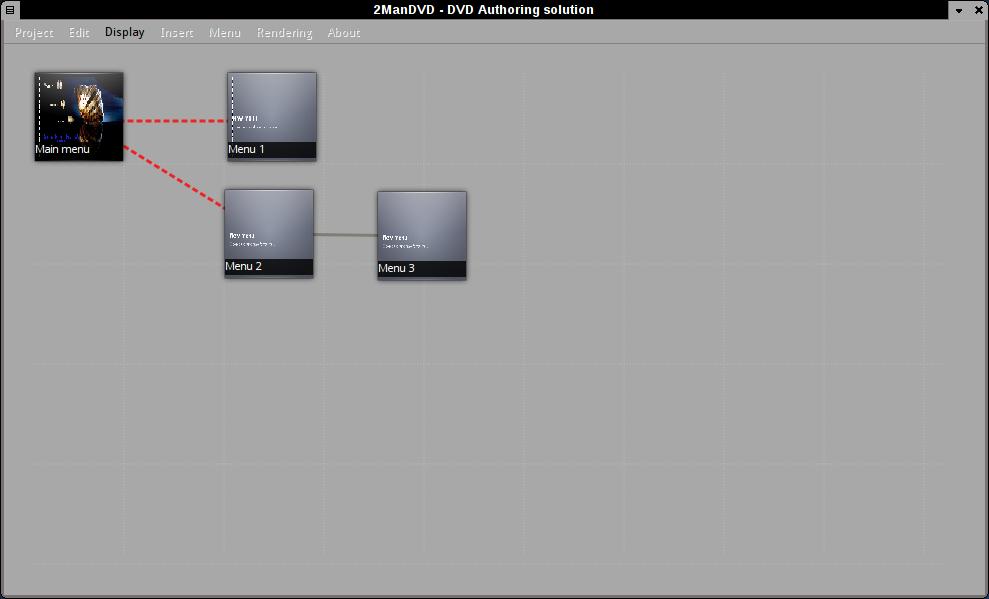 For each menu, you can set up it's own background image or looping video.  If you don't want to have to design all of this for yourself, 2ManDVD comes with a selection of pre-configured themes, which you can access in the control panel menu.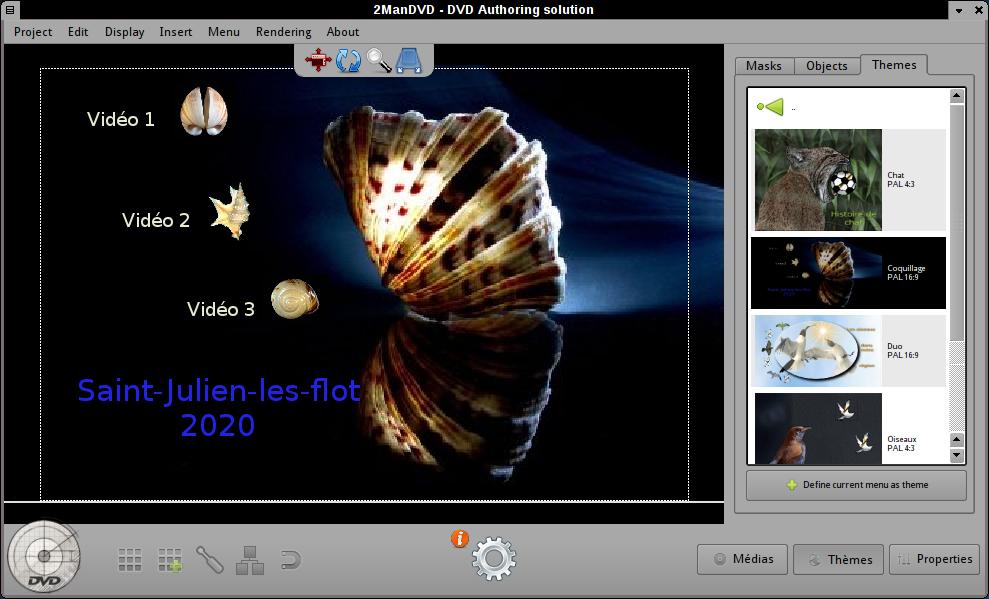 Each element on the menu can be changed and tweaked to meet your own likes or needs, you just need to click on them and edit them under the Properties tab.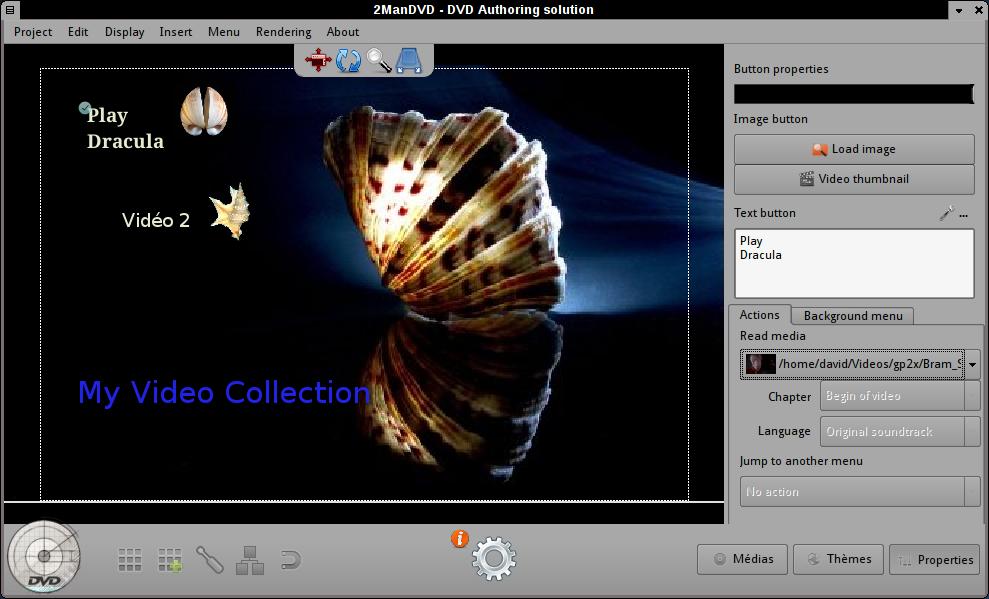 Adding your media files couldn't be easier, as you just need to drag and drop them from your desktop and drop them in the Media tab of the control panel.  Once they are there, you can do all sorts of things with them, like change their thumbnail images, add effects, add chapter markers and select the bitrates you wish 2ManDVD to encode them for DVD playback.
Once your media files are added to your project, you can then assign buttons, in the menu, to play them when selected with the DVD's remote control.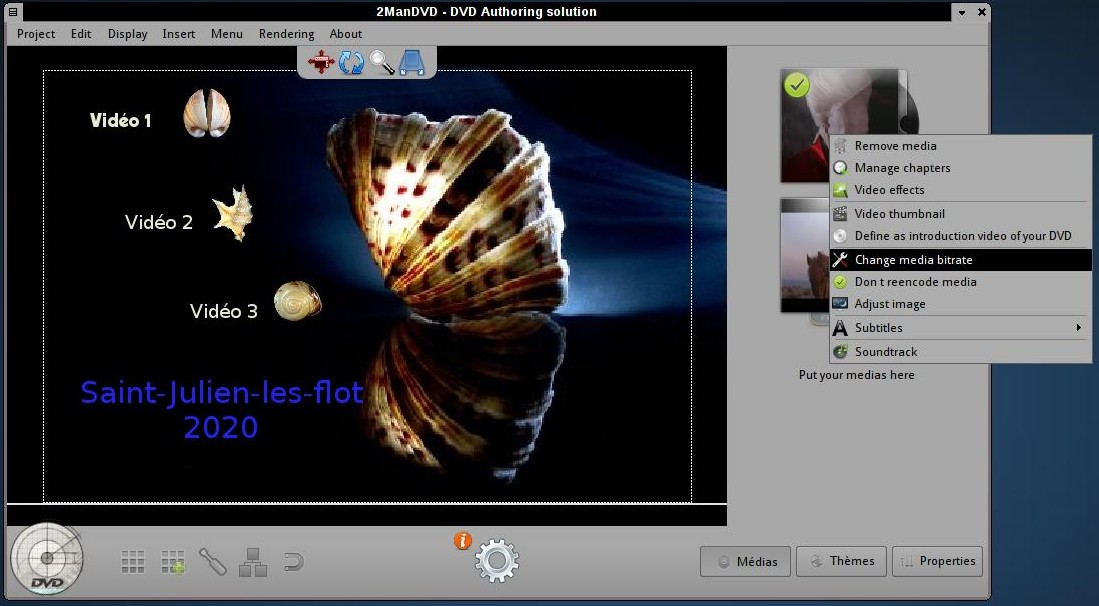 After you get your DVD project the way you like it, all you need to do then is click on the Render button and let 2ManDVD do all of the complicated stuff.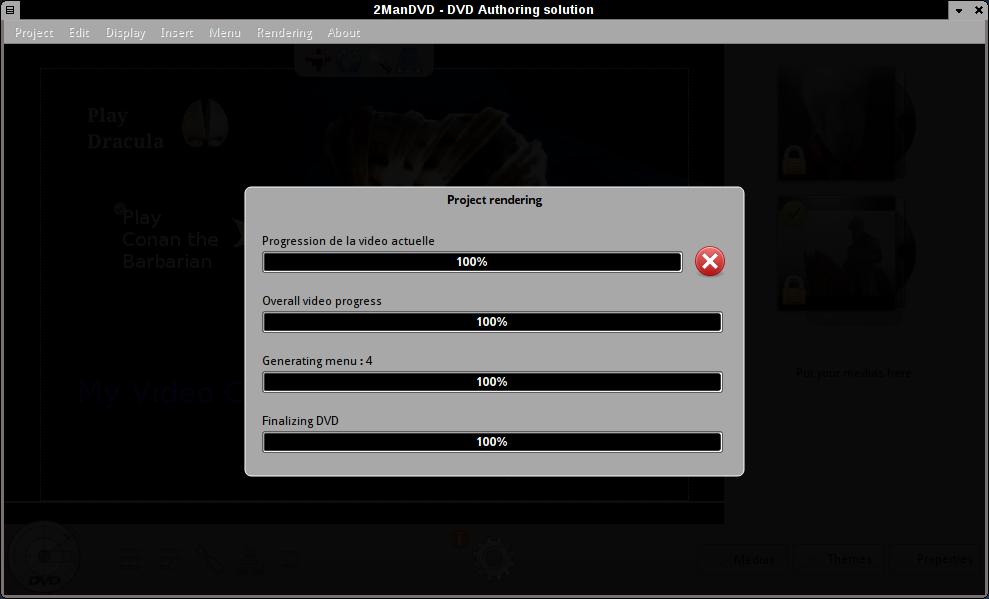 When the job is done, 2ManDVD will then present you with a "finishing" menu, where you can either preview your project, create an ISO file of the project, or burn it to a DVD.  Then, job done!  You have yourself a great looking DVD of your cherished movies/videos.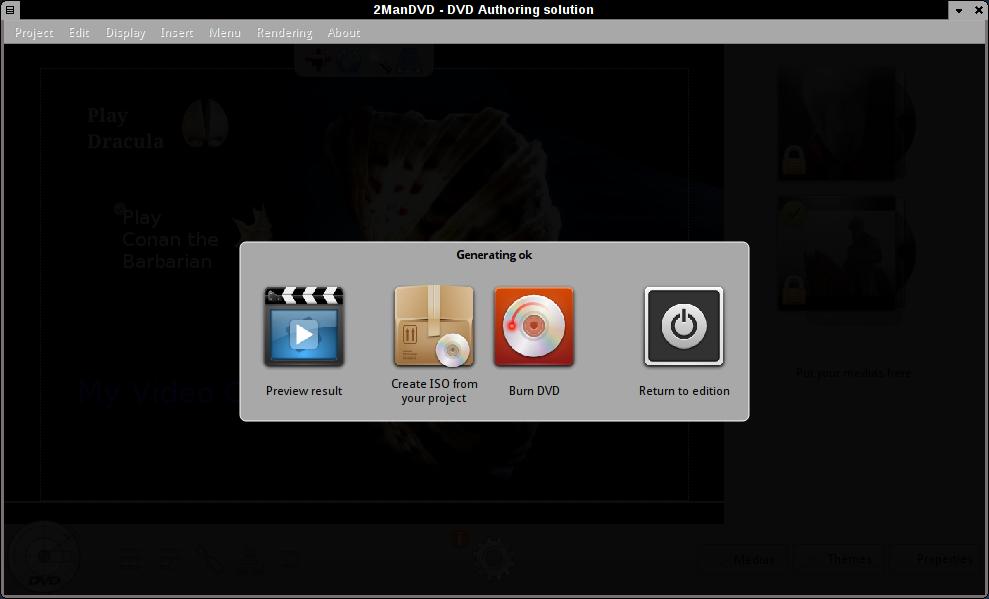 I really like the simplicity of 2ManDVD and how easy it makes it for me to archive my collection of .MP4s and .AVIs.  I really wish more Linux distributions supported and included this wonderful app in their software repositories.  If you make your own DVDs, I highly recommend you give 2ManDVD a try; it's also really easy to install on your Q4OS desktop and works well with this distribution of Linux.
---