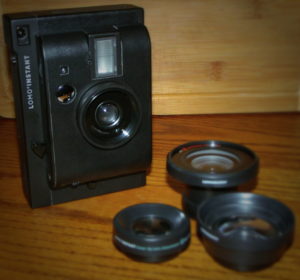 I'll just get this out of the way, right at the beginning: I really like this little camera. The folks, over at Lomography, really did a fantastic job with their design. When compared to any of the Fuji Instax instant cameras, the Lomo'Instant beats them all, at least in my opinion.
Not only does the camera look great – I really love the retro look it's been given – but it feels like a sturdy, well built piece of equipment. I much prefer how it feels in my hand, when compared to the Fuji Instax. What I really appreciate is the location of the shutter release; it's much better than Fuji's design, as I always found the shutter on the Instax to be very awkward to reach. I think it helps that it's a switch, on the Lomo'Instant, rather than a button (which is what is on the Instax cameras). I also like the faux-leather finish on the Lomo'Instant; it feels much nicer in the hand and gives the camera a little more substance.
The fact that the Lomo'Instant is powered by AAA batteries, was also a selling point for me. We recently had to buy a new set of batteries for my wife's Instax 50 (which I bought her a few years ago), which takes CR2 sized batteries. Well, around here, those batteries cost us $15 each, and the camera takes two of them. So, along with film costs, having to pay an additional $30 every so often for batteries is a bit of a sting. I'm much happier using less expensive, and readily available, AAA batteries in the Lomo'Instant. So, a pat on the back to the team member who suggested that idea.
But what makes this camera really shine is the control it gives me over my photo taking. I can see that I'm going to have hours of enjoyment getting familiar with all of the different things I can do with this camera. And I'm very glad I purchased the bundle that has the three additional lenses and flash over-lays. I really like how the Lomo'Instant's lens gives a soft "vignette" appearance along the edges of the instant photo. I'm sure that photographers would consider this to be a flaw of some sort, but I think it brings more character to the photographs.
I'm well impressed with this camera and am very glad I chose it over the Instax 90. I feel that I received good value for my money from Lomography.